Responsible Investing
Assessing how companies' environmental and societal impacts may affect their long-term financial results
Active Ownership
Improving companies' governance and environmental and societal impacts through active engagement and strategic proxy voting
Meeting Client Goals
Tailoring portfolio holdings, engagement, and proxy voting according to clients' own goals, such as climate and diversity
Integrated into our Process
The assessment of environmental, social, and governance (ESG) risks and opportunities is intrinsic to our fundamental analysis of every company under consideration and is integrated into each stage of our investment process. Our proprietary scorecard considers the potential consequences of 29 distinct ESG-related concerns (like carbon emissions, labor practices, and management-shareholder alignment) for each business's sustainability.
See how ESG considerations are integrated
throughout our investment process by hovering over each step.
Grounded in Industry Expertise
Deep knowledge of each global industry's distinctive structure helps us identify the relevant environmental and social issues. Analysts monitor these issues, such as health and safety (Materials companies), labor practices (Consumer Staples companies), or carbon emissions (Energy companies), using our proprietary Materiality Framework, which was adapted from the Sustainability Accounting Standards Board (SASB) Materiality Map.
Commitments to Transparency
As a signatory to the Principles for Responsible Investing (PRI) and the UK Stewardship Code, Harding Loevner leverages its own efforts to practice and promote sustainable investing. Harding Loevner also supports the Task Force on Climate-related Financial Disclosures (TCFD). Read our 2022 TCFD Report.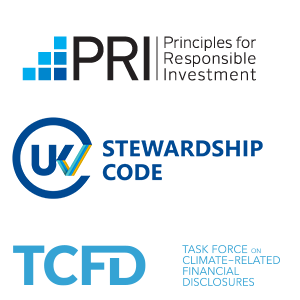 Engaging Frequently
We regularly engage with company managements to discuss and seek to understand the potential impact of environmental, social, and governance risks on their long-term returns.

Promoting Sustainability
We encourage companies to adopt practices that foster sustainable growth and to consider issues like energy transition, diversity, and cybersecurity.

Exercising Voting Rights
We promote high standards of corporate behavior and disclosure in every vote we cast. Our clients can request their shares be voted according to their own values and priorities.
We've applied our fundamental knowledge of companies to customize portfolios from our earliest days.
Sustainability integrated in investment process

First portfolios with Human Rights & Environmental exclusions

First portfolios with Catholic Values & Public Health exclusions

First portfolio with Islamic Values exclusions

Incorporated Glass Lewis data to support proxy vote decisions

Incorporated MSCI ESG data to improve screens

First portfolio managed to ESG Index benchmark

First portfolio with Best-in-Class mandate

Global Equity ESG Composite established

First portfolio managed to carbon targets

First portfolio with ex-fossil fuels mandate

Global Paris-Aligned & International Carbon Transition Equity strategies launched
Partnering with Clients
We tailor our approach to meet your specific responsible investing goals.
Values-Based Screening
Exclude from your portfolio certain businesses, like tobacco, alcohol, gambling or fossil fuels.
Best-in-Class Portfolios
Focus your portfolio on companies with particularly strong environmental or social profiles.
Environmental Targeting
Manage your portfolio according to targets for carbon emissions.
Customized Engagement
Engage on your behalf according to specific values, including those around emissions, diversity, and labor relations.
Directed Voting
Cast proxy votes for shares in your portfolio according to your values and priorities.
ESG Reporting
Provide customized reporting based on third-party metrics to meet your ESG reporting requirements.
experience in customized
ESG screening.
managed for clients with custom
Environmental or Social requirements.
currently managed for clients with
specific ESG requirements.
Read More
Read more about Stewardship and Sustainability in our investment process:

Responsible Investing Videos
Watch our colleagues discuss Harding Loevner's approach to Responsible Investing.
Investing for Sustainability
Ferrill Roll, CFA
Chief Investment Officer
Integrating ESG into our Investment Process
Maria Lernerman, CFA
ESG Analyst
Engaging with Companies
Timothy Kubarych, CFA
Deputy Director of Research
Meeting Clients' Goals
Lindsey Andresen
Manager, Client Management