As active owners, we engage with company managements and cast proxy votes to protect and advance the financial interests of our clients.
We regularly engage with company managements to discuss the potential impact of a variety of risks and opportunities for growth as competitive industry dynamics inevitably evolve. Through our frequent engagements with companies, we seek to promote high standards of corporate behavior and to encourage companies to adopt the best business practices that foster sustainable growth.
Harding Loevner has a three-pronged approach to engagement.
Research-Related Engagement
Analysts commonly engage with company management as part of the initial research process, and as a matter of course in the ongoing monitoring of qualified companies under coverage. In some instances, analysts have specific requests for company action; in others, analysts engage to explore a particular issue and better understand its impact on a company. We engage on a range of topics including a company's approach to navigating climate change and energy transition, human capital management, and cybersecurity.
Proxy-Related Engagement
Whenever Harding Loevner casts a vote on behalf of our clients against management's recommendation, the analyst writes to the board to highlight and explain the basis for our dissent, inviting further dialog. These engagements span a variety of topics, but tend to be focused primarily on governance issues, including company board composition and director elections.
Structured Engagement
In addition to the engagement to which we subject all covered companies, we further screen all portfolio holdings and engage with those that have insufficient ESG disclosure as well as those that fail to fully consider the impacts of select material social and environmental risks, including climate change and energy transition. As part of these engagements, we seek to help raise the company's awareness of emergent ESG issues, regulatory developments, and disclosure frameworks. For all holdings in our Global Paris-Aligned Equity and International Carbon Transition Equity strategies, we also engage specifically on progress toward net-zero emissions.
Harding Loevner engaged with companies throughout the year on a range of ESG topics, including energy transition, human rights, cybersecurity, and board independence.
ESG Engagements by Country in 2022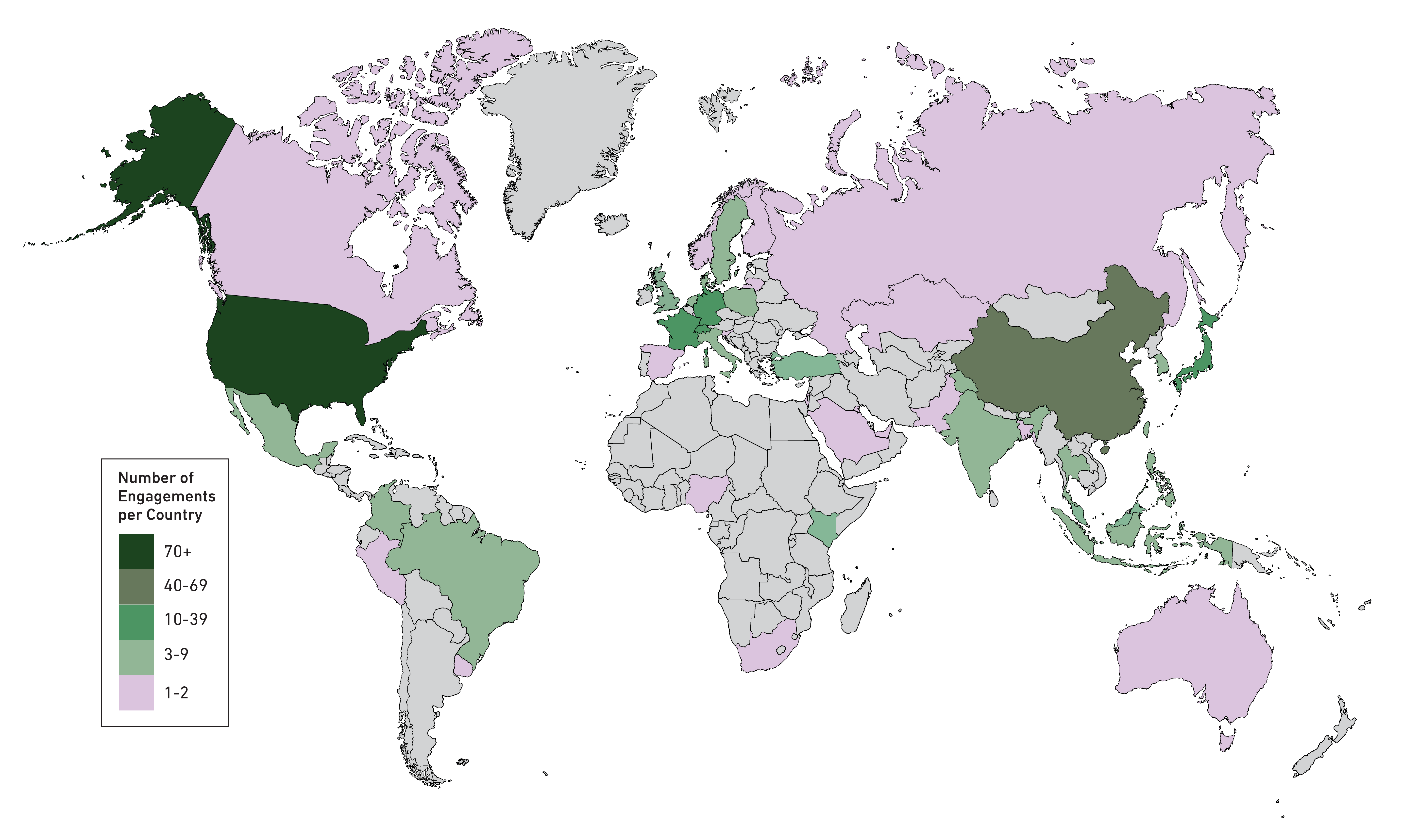 We exercise voting rights on behalf of our clients to maximize shareholder value.

We seek to promote high standards of governance, including adequate disclosure of policies and activities.

We encourage firms to adopt transparent reporting and business practices that foster sustainable growth.

We expect firms to treat minority shareholders fairly and offer regular access to management.
Breakout of Proxy Votes in 2022
Commitments to Transparency and Continual Improvement
Harding Loevner supports collective efforts to promote responsible investing and active ownership as a signatory of the Principles for Responsible Investing and the UK Stewardship Code. As a signatory of CDP Worldwide, Harding Loevner also participates in collaborative engagements to provide standardized climate disclosure.



*Engagements include all letters sent following the proxy voting process as well as all written and documented oral communications where the primary purpose of engaging with company management was to discuss environmental, social, or corporate governance issues. Company meetings includes one-on-one meetings, group meetings, and a small number of meetings with industry experts and brokers.
Learn More
Read more about our approach to voting and engagement as well as recent activity.