Harding Loevner Portfolio Specialist Clarke Moody, CFA and Industrials Analyst Anix Vyas, CFA discuss BBA Aviation and other FBOs that provide services to the Business and General Aviation industry. The transcript, edited for clarity, follows.
Clarke Moody: Anix, let's talk about the Business and General Aviation industry. First of all, what is it, and what market do the participants in that industry address?
Anix Vyas: When you talk about the Business and General Aviation industry, you have to understand that it's a narrow subset of the broader aviation industry. The key customers are individuals who are flying for general purposes, folks who are flying for business, and you have charters and fractional jet operators.
The bulk of the services are provided at an airport terminal by fixed-base operators. These operators provide a variety of services but the number one service is quite simply refueling the jets. Other services include maintenance, amenities that are provided on the plane, space to park your plane, and things like that.
CM: So what attracted you to the industry at first? It seems pretty prosaic at first blush.
AV: There's a few things about the industry that I think are really attractive. To give you the lay of the landscape, there's about 3,200 fixed-base operators in the industry globally. A lot of these operators are small, privately run independent firms.
In terms of real competitors that operate across a network, there's really only two. There used to be three. BBA Aviation is the largest, and they recently acquired one of the smaller network providers, Landmark Aviation, which was private-equity owned. The other player is Atlantic Aviation.
Atlantic Aviation operates very similarly to BBA Aviation, so they have operations across a variety of different locations across the US and other markets outside the US. Both of them are, I would say, the closest rivals in the industry. So from that regard, there's really two companies that have a network and everyone else is operating a one-off location. That's important because it feeds into the benefit of economies of scale.
Two Major Networks in an Otherwise Fragmented Industry
FBO Locations: Northeastern US, June 2018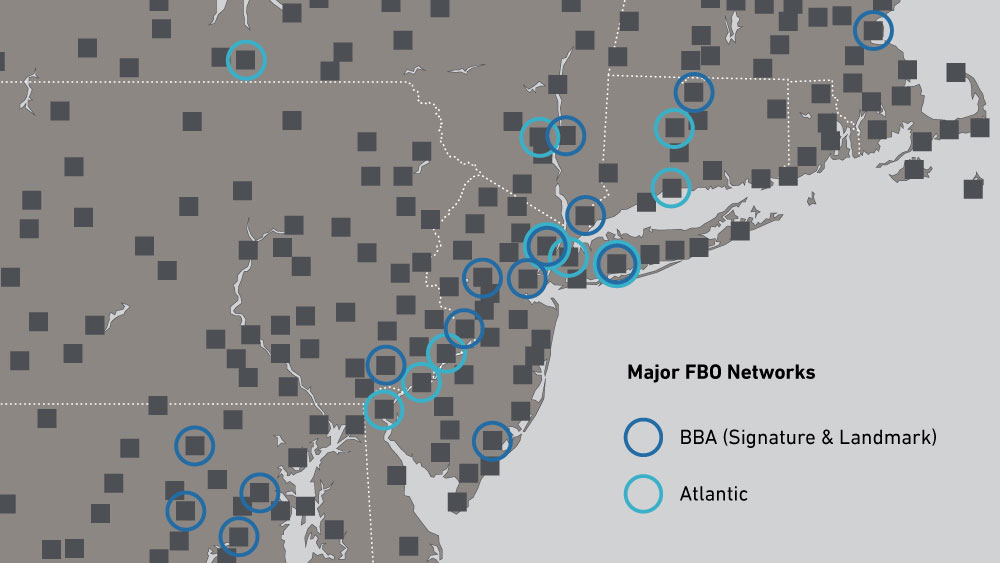 Source: Foreflight, BBA Aviation, Atlantic Aviation
Data valid as of 06/29/2018
You also have the benefit of high barriers to entry in this industry. To operate on an airport field, you need to obtain a lease from an airport authority. These leases tend to be 15 to 20 years in length, and so it becomes extremely difficult to displace an existing operator at one specific site. And if you wanted to displace a network, just think of how much time that that would take. So the barriers to entry are very attractive.
Another thing that I think is attractive for the industry is you have a narrow subset of customers who really value efficiency and their time. Traveling via business jet is super efficient. Until Elon Musk figures out the Hyperloop or someone figures out how to teleport people, this is going to be the most efficient way to travel, and if you value your time, this is the way you're going to do it.
CM: Talk a little bit about the growth challenges that you might see in the industry.
AV: When you think of the demand drivers of aviation, it's really economic. Economic activity and GDP are key drivers of growth. The best estimates that we see for forecasted growth come from the FAA, and they estimate that business jet hours flown is likely to grow around 3% through 2038. So I would expect the industry to remain in this low single digit type of growth environment, but durable, so I don't expect huge declines.
Another thing that I think is really important in terms of growth is that for a long time the industry has been focused on the US for various reasons, and we're just starting to see opportunities for growth and expansion in other places like Asia, Europe, and Latin America. There are some constraints there for growth that will likely continue to be the case over the near term, but longer term I think there is compelling opportunity.
Harding Loevner Analyst Anix Vyas, CFA contributed research and viewpoints to this article.
Disclosures

The "Fundamental Thinking" series presents the perspectives of Harding Loevner's analysts on a range of investment topics, highlighting our fundamental research and providing insight into how we approach quality growth investing. For more detailed information regarding particular investment strategies, please visit our website, www.hardingloevner.com. Any statements made by employees of Harding Loevner are solely their own and do not necessarily express or relate to the views or opinions of Harding Loevner.

Any discussion of specific securities is not a recommendation to purchase or sell a particular security. Non-performance based criteria have been used to select the securities identified. It should not be assumed that investment in the securities identified has been or will be profitable. To request a complete list of holdings for the past year, please contact Harding Loevner.

There is no guarantee that any investment strategy will meet its objective. Past performance does not guarantee future results.

© 2023 Harding Loevner